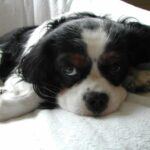 As a paw parent we all love our pets to the moon and back. We spoil them. We can be over protective.  We make sure their health needs are taken care of, sometimes ahead of our own.  And the last few posts have had a common thread of bedding – indoors and outdoors. Today's focus will be on or
thopedic pet beds.  This is one of the highest forms of unconditional love we can extend to our pets – comfort with a side of health benefit.
Nitty-Gritty
A need for an orthopedic bed, at least one, goes beyond what your initial thoughts might be.  It just might surprise you as we walk through the many reasons to give this a thought:
Care for aging pet – Yes, this was probably the first thing that came to mind. Helps to reduce pain, stiffness and joint related problems.
Post surgery care – There are a few features available to help your pet recover in comfort, including waterproofing, orthopedic memory foam (medical grade orthopedic foam available) and non-slip backing to prevent sliding.  Another great benefit here is that these beds lessen a chance for bed sores which can occur when the pet is laid up for extended periods and overall they will encourage healing in your pet.
Preventive – Whether you have a breed that could be prone to health issues later in life, or you just want to give them every chance to avoid those possible aging issues, there is a therapedic foam bed that would be ideal.  From layers of foam to cradle your pet and prevent joint, head or nect issues, to orthopedic beds also tend to hold heat which helps to increase circulation.
Following a few selections of highly rated orthopedic pet beds. Keep in mind that there are many more and all will offer a level of superior comfort for your pet.  Feel free to click on the titles for more information and photos.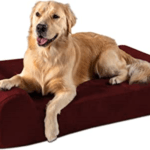 The name kicks off one of the first attributes of this brand.  Intended for the medium to extra-large dogs, this bed offers seven inches of therapedic foam.  The foam also has an open-cell design allowing for great airflow, keeping your pet cool and comfortable.  And one of the key selling points on this bed is the 10 year guarantee (it will maintain at least 90% of the shape or the manufacturer will replace the foam).
Available in 4 colors, this is the sports car version of orthopedic beds at an estimated $240.00 retail price.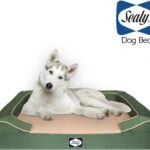 So here is a name you will recognize for sleep comfort.  This beds offers support for all ages and particularly helpful to those with arthritis, joint or bone problems.  The cooling gel regulates the body temperature, while the memory foam conforms to the dog's body, easily adapting to movement and increasing circulation.  Features include a non-slip bottom, waterproof lining and hidden zippers.
Available in 5 colors and several sizes to choose from.  The medium bed is $129.99.
Four inches of gel cooling memory foam insert pad surrounded by an internal waterproof case and two layers of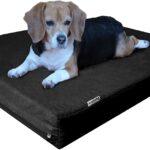 washable micro-suede covers.  This one is for our large furry friends and can fit in crates too.  For additional value this mattress is stain, dirt and wrinkle resistant.  Machine washable.
Available in navy, at a reasonable $89.95.
Earlier we reviewed one made for our large pets and this one is designed just for the little tikes, maximum of 30 pounds.  Made of human grade foam and offering a poly-filled bolster and deemed "chew proof" this pet bed is a great option for those .that might have joint and/or arthritis pain.  The cover is removable for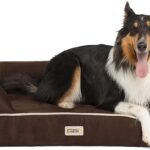 machine washing.
Available in 3 colors, and about $64.00.
This plush orthopedic mattress can also be used as a crate lounger.  Complete with a removable and machine washable cover and waterproof liner and this purchase includes a squeaker toy.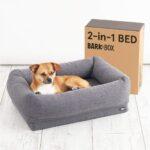 Available in light grey and starting at $55.99 for the small.
I always encourage everyone to read the finer details, make those lists of what is important to you and your pet to come to the best possible decision. One other thought to leave you with – because the grade of materials used in these beds, they tend to last longer (some even come with a guarantee) so it is a great investment. Remember that as you look at some of the price points.
Your quick checklist for purchasing an orthopedic pet bed:
Size – make sure it fits your pup
Make sure it's easy to get into
Choose a spot for the bed – make sure it's warm
Consult with your vetinarian for any specifics they recommend
Watch your pet sleep – it will help understand the type of bed you should get
Purchase good quality materials
For Charity's Sake
Paw Parents are a special breed of people. While my purpose is to provide a website to help others like me to purchase their pet supplies and find unique products, there are far too may fur babies out there that are less fortunate and military personnel who could use your help.
If you are interested in making the difference in the lives of rescue animals, please visit The Animal Rescue Site for a collection of human and pet merchandise where every purchase aids in feeding rescue animals. Select an item and you'll find out how many rescue pets that it will support. Whether you make a purchase for yourself or you're looking to find that perfect gift for a friend or loved one, you will find lots of opportunities to show your love of animals and make a great contribution at the same time.
In addition, if you are able to make a donation (one time or ongoing), the following organizations can also use your help:
Leashes of Valor
Pets for Vets
Paws for Purple Hearts
K9's for Warriors
Mission K9 Rescue
In the spirit of paying it forward, share your love of animals however you can and within the means that you can.
Community Chat
Share your thoughts about stairs, ramps and foot stools. What has worked.  What hasn't.  Are you looking for something specific?  Be sure to subscribe on the home page and receive alerts when a new post is made.  And follow us on social media too!