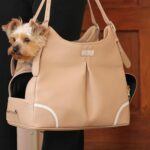 Okay so as pet parents we go beyond spoiling our furry friends. And when it comes to pet transport this is one area where pet suppliers and designers have given us an infinite amount of product to choose from.  Not to diss the cats out there, but dogs are more open to a variety of carriers as a general rule. But you know your fur baby best and can determine which dog carrier can suffice for your feline.
The links provided within will guide you to a product and once there, I encourage you to conduct searches based on your lifestyle, desired amenities and features, to find the right fit.
Measure For Success
Before you get started, be sure to have all of the measurements of your pet or pets.  Manufacturing and types of products will vary and have their own size chart, so having this information available will save time and ensure you make a good purchase.
Weight
Chest circumference
Length – from shoulder to bum (but do not include tail)
Shoulder height – measured at the withers (base of neck at highest point of shoulder blades) to floor
Search For Success
As with previous blogs, I will provide some ideas of what to consider for your dog carrier and then once you have clicked through you can continue to play with different searches.  First let's look at the different types of dog carrier you can search for:
Back & Chest Pack
Bicycle Baskets & Carts
Carrier
Jogging Stroller
Purses/Totes
Slings
Strollers
Wagons
And now let's take a look at some possible attributes or features that you might want or need:
Airline Approved
Breathable
Ergonomic
Lightweight
Padded Straps
Removeable Pad/cover
Safety harness
Wheels
Dog Carrier Backpack & Chestpack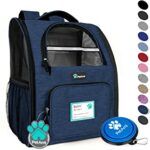 Starting with a backpack, as an example of one that is good for walking, hiking or traveling, the PetAmi Deluxe Pet Carrier has a lot of great features for comfort for both dog and owner.  Easy entry (2 sides); lots of safety features with 3 buckles, safety harness clip, and is constructed to avoid collapse; owner comfort with padded strap and cushioned back; and an extra bonus of a collapsible dish. Oh and this one is available in 9 colors.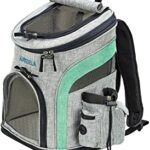 When we look at a chestpack, or frontpack, some of these can serve both front or back.  And as shown above, there are a couple of styles shown, one with the dog inside with their head out or one where the dog is straped in like a baby with legs out.  Both styles serve to give you a hands free transport.  And just like the outdoor activities above, these can add cycling to the list.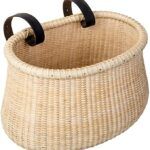 Cycling is not just for kids any more and with the available dog carrier options, why would you leave your baby at home?  Baskets have come a long way and again the features and options are long.  The wicker basket above offers a removeable wire canopy that affords both shade and security if you're worried about your dog jumping out.  Or looking at the blue basket, it's sporty and quick easy on and off if that's important to you.
For our cycle enthusiasts, there are bike trailers made by the same great manufacturers as your bike, like Schwinn shown below.  And since not all dogs can or should run with their masters, the trailer is a great option for big dogs to go along or of course take a few small ones.  If you're thinking you don't have room, think again.  Most are foldable for easy storage.  Look for additional features like non-slip surface, waterproof, washable, rain screen, or even the ability to convert to a pet stroller like the Doggyride trailer above.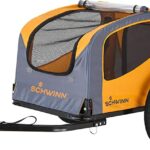 Just A Dog Carrier – I Don't Think So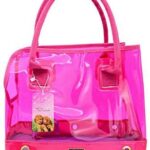 The traditional pet carrier has come along way. I would encourage you to really consider the different ways you will use a pet carrier before purchasing to ensure that it has all of the features.  Today, may of the styles available have multiple purposes.  To be very honest, i have multiple carriers but consider this list of attributes as you begin to look for your perfect pet carrier:
Airline travel – if you intend to take your pet with you on travels, make sure that you get one that is airline approved.  And while many will say they are, you can always check with your preferred airline for their specific requirements.
Casing – While the hard shell casings are still out there, the soft-sided options have brought a lighter weight to the carrier.
Colors – while it might not be important to your pet, there are literally a rainbow of colors out there so consider which one would represent you and your pet's personality.
Fold-up – if storage space is at a premium then consider those that will fold-up, are collapsible or have other storage features.
Handle/shoulder strap – here is a really big consideration, especially if you are using it to travel through airports.  Handles are great and most are padded, but double check to see if it gives you a shoulder strap.  Carrying it just by handles might be a bit taxing over longer distances.
Lockable zippers –  so learn from one of my mistakes.  One of my pet carriers is so cute and I love it but it does not have locking zippers.  So with just a little push from a very anxious puppy and she can quickly escape.  Of course it's not required on every zipper but look at the placement and think about your fur baby.
Mesh windows – Ventilation is alwasy built-in but also consider more mesh windows to give your pet viewing capabilities of their journey.
Pad(s) – check to see that a pad is included at the foundation for your pets comfort or you will need to look for one that is compatible with your pet carrier of choice.
Pocket(s) – this is another big feature.  You will need storage for a leash, tinkle pad, medicines, travel water bottle/food dish, potty bags and a myriad of other necessities, again depending on how you will be using it.
Seatbelt loops – your pet carrier could be a car seat, so check for one that has seatbelt loops ot do double duty.
Wheels – a great feature if you're planning to navigate parks, the airport or other paths that might have some distance to them.  Just makes it a little easier for all.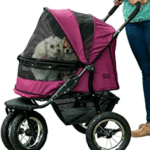 Not every dog was meant to run with their owner parent, but they might still ejoy the ride and fresh air.  As with children, there is a pet stroller made specifically for joggers with a few different modifications than the child version. Depending on the size or number of dogs you need to accommodate, here are some of the attributes to look for:
No-zip entry
Easy one hand fold
Pneumatic tires (air-filled)
Cup holder
Removeable liner
Non-skid pad
Hitch for trailer kit (dual purpose)
Safety flag
Reflectors
A jogging stroller is different from a regular stroller and the primary difference can be seen in 3 wheels vs 4 wheels and the distance between the front and back wheels. The three-wheel and distance are designed for the comfort of the runner and pet.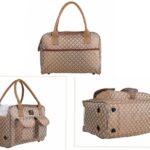 You've seen celebrities toting their little pets for years.  Now you can too and at these prices, you'll have a wardrobe of dog carrier purses, and you will see that these are also great for cats.  Now whether it's a purse or a tote, the purpose of these is pure fashion statement.  So take a look at what's in your closet to inspire style, color, features.  Afterall, your fur baby will be following your lead on this one.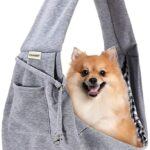 Slings are probably the most casual of pet carriers.  And like purses and totes, but with a bit more of practicality, the selection of options are endless.  This type of pet carrier is all about personal preferences – color and the style of sling – whether is has some structure or escape-proof features.  In an effort to showcase a sampling, above are just a few options.  Click through and begin your search for what coordinates with your style and color.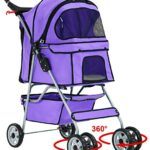 From an inexpensive model to the luxurious sports model, there is something in every price range and with loads of options.  Take a gander at some of the products highlighted for a test drive.  This is the ultimte pet carrier to transport your pets with you everywhere.  Following are some of the options available:
Protective plan/guarantee
Pet(s) tether
Reversible handlebar
All terrain wheels
Water resistent
Parent tray
Cup holder
Panaramic view
Easy fold storage
Parking brake
Storage space
Retractable canopy
Cushioned mattress
Multiple entry point
Heavy-duty frame
So whether you have an aging pet, want to provide a means of outdoor activity during the heat of the summer, or just need a more convenient means of transportation, there is a stroller out there to suit your needs. Oh, and while many think that this is a small dog thing, you shoudl know that I have seen strollers that can hold up to 75 pounds.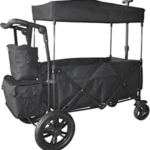 NOTE:  There are not pet-specific wagons so you will need to add a safety tether!  Please do not assume that your pet will stay put.  You never know what could distract or spook them.  Search for pet tether and there are several
For a family with small children and pets, a wagon may be a more economic choice.  And for those with larger dogs, this too is a viable option for weight capacity.
Community Chat
Share your thoughts about stairs, ramps and foot stools. What has worked.  What hasn't.  Are you looking for something specific?  Be sure to subscribe on the home page and receive alerts when a new post is made.  And follow us on social media too!