As the whole family prepares for summer break and vacation, don't forget your fur baby as you gear up for the backyard or traveling. An outdoor pet bed is just as vital to your plan as sunscreen is to the whole family.
If you are asking yourself 'why' this is necessary, let's start by understanding the primary benefits:
OFF THE PAVEMENT – Sidewalks, driveways, concrete decks, and the like are all hot to our touch. They can be extremely hot to your pet. A bed can provide elevation and air flow allowing for a healthier pet.
OFF THE DIRT & GRASS – By providing a pet bed, your pet will stay out of the dirt and grass more which means less contact with insects but more importantly, means less of those things tracked into your home.
SHADE – Just like us, your pet will need shade during those hot summer days and a bed strategically placed in the shade, or even more important, getting an outdoor pet bed with a canopy or shade element will protect your pet.
Before you begin buying, consider the following ideas of what to look for to make sure you get the right bed for your pets lifestyle.
Comfy
First and foremost you want your pet to be comfortable. And since you know how your pet likes to lounge inside, take all of those personal preferences into consideration when you look at comfort factors: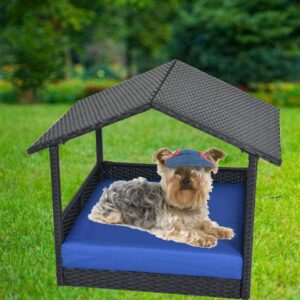 Resist the Elements
Weather is not the only element to take into consideration, although it is an important one.
Water resistant
Urine resistant
Chew resistant
Heated bed
Read the descriptions carefully and make sure to read reviews whenever available. In the end you may not get everything on your wish list but make an informed purchase. Reviews are a great help to know if the product will withstand the same type of environment you have.
Pets on the Move…or Not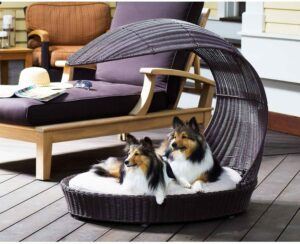 If you're that family that hits the road for the summer for camping adventures, visiting relatives or just sightseeing and your pet gets to go along, then make sure you factor mobility at the top of your purchase considerations. As much as you want your pet to be with you, make sure all the provisions you acquire for them fit into your ability to pack and move swiftly.
And likewise, if you have a resort-style life at home with a pool or other recreation, then your selection may allow for something more stationary.  There are great designs available for your pet furniture to compliment your décor.
To UV or Not to UV
Protection comes in many forms, such as UPF clothes, sunglasses, goggles, hats, however for today's discussion we'll focus on how outdoor pet beds can aid in the protection of your pet. This comes in the way of canopies, overhangs, sleeping bags or bed covers. Again think about how your pet lives inside your home. If they typically shy away from something enclosed then don't consider an enclosed pet bed or dog house. Instead look at a canopy or overhang so they have that same open, yet secure feeling.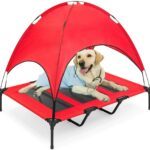 Don't Be In Weight Denial
And finally, make sure you're honest with yourself for your pet's sake. Be sure to secure a bed that can handle the weight of your pet or pets, as the case may be. Yes, the larger beds may cost a bit more, but getting the wrong size could mean pet discomfort or worse, a broken bed. Make a good purchase that will serve both of you.
Good Decisions Ahead
Just like other decisions you make for your family, sometimes it requires some thought and a priority list to make sure the product meets as many needs as possible, and within the budget available. We will do our best to bring different beds and price points to help everyone find their perfect match.
Now if you're like many of us paw parents, the outdoor pet bed will only be one purchase in the grand scheme of decor, supplies or equipment you will make. And the likelihood of making multiple bed purchases is pretty high. As we have done here, make a list of the priority items for each given situation to help you make the best possible purchase.
For Charity's Sake
Paw Parents are a special breed of people. While my purpose is to provide a website to help others like me to purchase their pet supplies and find unique products, there are far too may fur babies out there that are less fortunate as well as military personnel who could use your help with their pets and service companions.
If you are interested in making the difference in the lives of rescue animals, please visit The Animal Rescue Site for a collection of human and pet merchandise where every purchase aids in feeding rescue animals. Select an item and you'll find out how many rescue pets that it will support. Whether you make a purchase for yourself or you're looking to find that perfect gift for a friend or loved one, you will find lots of opportunities to show your love of animals and make a great contribution at the same time.
In addition, if you are able to make a donation (one time or ongoing), the following organizations can also use your help for our military veterans:
In the spirit of paying it forward, share your love of animals however you can and within the means that you can.