Over protective moms and dads. Suspicious about shenanigans. Whatever the reason, pet camera monitoring systems are all the rage.  And our pets are sure delighted as most of them are loaded with treats now.  So let's take a look at a few the avaialble models and you decide which is the best pet camera.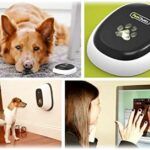 There's always a high-end version in just about everything and this is it for the world of pet monitoring.  As pet parents return to work, there will be plenty of separation anxiety to go around.  This digital daycare model has a few features that the others don't.  Take a look:
Full HD camera
Streams DOGTV (subscription required)
Two-way radio
Motion and sound alerts
Games
Aromatherapy for separation anxiety
Featured in or on WSJ, ABC News, Today Show, Huffington Post and USA Today.
Retail: From $329.99
Let's run through some of the highlights of this option: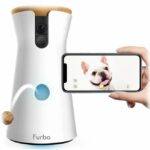 Treat tossing capabilities
Full HD camera
Two-way radio
Compatible with Alexa
Night vision
Wide angle – 160 degrees
Barking & activity alert notifications
90-day free cloud recording storage, alerts & diary (additional subscription required for these premium services)
Free app
This on-trend monitoring is recommended by over 5,000 veterinaries and pro trainers but it's probably the "as seen on Ellen" that seems to have owners lapping up this gadget.
And if all of these features don't have you convinced, Furbo is working on adding an additional feature for home emergency alerts like fire and carbon monoxide.  While this model might be higher than others, evaluate what you get for that price.
Retail:  From $199.99
Unlike others presented here, this model is not a pet treat dispensering and this one is a great choice for cats.  If you like to tease your fur babies, this one has a laser toy that you can control with your phone or you can set it on autoplay.  Check out the rest of the features: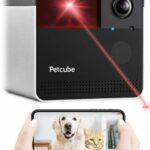 Laser toy – control by your phone or set to autoplay
Alexa is built-in – this is the only current brand with this feature
Full HD camera with 4x zoom
Two-way audio
Night vision
Wide angle – 160 degrees
Sound and motion alerts
Pet monitoring app
Adjustable mount available 0 $19.99
12 month, 24/7 support
This one has been on the celebrity circuit – Oprah Winfrey Show; Ellen; CBS's The Talk Show; and NBC's Today Show.
There is also an optional membership for video history, bark/meow detection and pet/human recognition.
Retail:  From $179.00
So a bit different in visual and movement.  This model is more interactive with your pet and can detect touches and your pet behavior.  Another highlight for this robot is that it doesn't require an internet connection because there is also a remote control.  So let's list the features of the owl: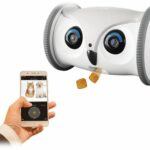 Treat tossing capabilties
Full HD Camera with 4x Zoom
Two-way audio
Night vision
Activity alerts
Retail:  From $169.99
Like other models, this too is a treat dispenser and the following features: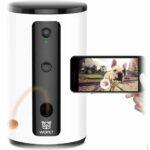 Treat tossing capacity
Full HD camera with 4x zoom
Two-way audio
Night vision
Compatible with Alexa
Tech support
Share pictures and video to social media
Retail:  From $137.99
The Power of Observation
Yes, the monitoring cameras can be fun and sure it will increase your interaction and keep your pet engaged.  Observing your pet has other significant advantages.  If you are looking to identify behaviorial issues or even need to discover whether the placement of furniture or items is working in your home, the monitor will help.  And of course there is the health and safety considerations.  If you employ a sitter or walker, you can verify timeliness, care levels and keep an eye on your home. And if your pet has separation issues, what a way to lift their spirits.
Giving is tough for many families and will be even tougher now. But what if I told you that you can give without ever writing a check? Amazonsmile! Chances are you shop on Amazon at some point anyway. Now every time you shop, give back to charity.
Here's how this works. Simply click on the link above and sign in to select your favorite charity. Then every time you shop on Amazon, and make sure to sign in on the smile link, Amazon will donate .5% of your eligible purchases to the desginated charity. So easy.
There are lots of choices, so search through the categories – pets/animals; arts/culture; environment; education/youth, to name a few – and choose one close to your heart. A modern day Robin Hood opportunity.
It is always recommended to make sure you know where your money is going and that it's going to good use, so check out the Federal Trade Commission Consumer Information page "Before Giving To A Charity" for helpful hints and resources to make sure your donation is managed as you intend.