FELLOW PAW PARENT
From as far back as I can remember, we always had dogs and cats in our home.  Dogs and cats were as much a part of our famly as the kids were and that was perfect.
My first fur baby on my own came after my divorce (during my marriage I wasn't allowed to have a pet) in the form of a teacup chihuahua.  She became my child, companion and confidant through what would have been a not-so-nice-time in my life. We were inseparable.  She blessed my life for 15 beautiful years.
It wasn't long after my loss that I came home from work one day and my mother had found a breeder in a nearby town that had a litter of puppies. She knew I would get another one. This time I was blessed to find a beautiful black Pomeranian.
And there are more in my life.  My mother who lives with me, has a toy poodle.  And my boyfriend just got a schnauzer. So there is always a minimum of 2 in the house and often 3.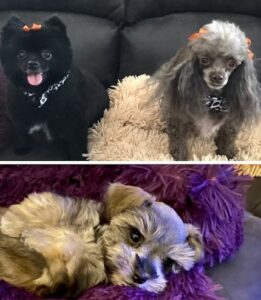 WHY SIN CITY PAW
It has often been said that pet owners take better care than some people do of their children. And while that might be true, what drives me is the ability to provide a single site where a paw parent can find products, recommendations and/or reviews.  Shopping is a passion as well as pets so combining them is natural.
PROVIDING FOR YOUR FUR BABY
My sole purpose in creating this website is to bring products or ideas to my fellow paw parents that you may or may not find on your own.  Time is precious and if I can help you spend more time with your fur baby and less time searching for items that you may not know exist, or at the very least help search for possible ideas, then I will have accomplished the goal.
If you're looking for something special or have questions I will always try my best to find it for you or find a resource. Remember to bookmark this site and return often.  Oh and be sure to tell all of your paw parent friends!
All the best and thanks for finding my site,
Michele
sincitypaw.com