Whether you adorn your fur baby with a collar, shirt, scarf or one of a thousand other fashion items, you and your pet are part of an over $69 billion industry phenomenon…and climbing. And just how and when did this fashion pet clothing industry get started? You just might be surprised.
Pet adornment has been found as far back as 12,000 years ago. While artifacts and drawings have provided some clues, it is just as surprising that much of the history has not been chronicled. Fast forward to the 1840's and we find that most pet stores catered to birds. And it wasn't until the 1860's that someone watching sailors feed scraps to dogs that they got the idea to produce a commercial pet food. It wasn't until the 1960's that the first national pet store came on the scene.
Today we have national chains, independent boutiques and of course we have the internet. We can buy anything, anywhere, any time. But with that abyss of product comes the challenge of finding what you like, in the right size for the right price. So, let's walk through not only what is available, but importantly, is how do you find it. I will highlight a few items throughout for ideas, and of course there are links, but it's about searching within those links that will ultimately take you to the fashion trends you want for your pet.
As I have reviewed in previous blogs, before you start shopping determine what you need/want in fashion. Take the following into consideration:
• Measurements – you will want to have measured your pet in advance (around the neck, from neck to tail, etc.) so    you can
determine the size (and trust me they will vary by manufacturer).
• Purpose – now you may or may not have one but if you do you will want the item to fit those needs. For example, do you
plan on walking your pet in their clothes? If so, you will need a leash hook built-in or at the very least hole for their collar
hook to come through. Otherwise you just need to be sure you will have enough access to get them hooked up.
• Size – a puppy will grow so are you going to get something for now or something to grow into. Consider comfort for your pet
and not make things too tight in some cases or too loose in others.
So, without further delay let's look at the many different categories of fashion for your pet.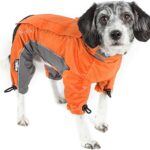 Consider climate, purpose, travel, color, accessories…yes, there is a ton of options out there. So, take a look at some of the keywords that you could use in your search to find the right coat or jacket:
Faux fur / Fleece / Jumpsuit / Leather / Puffer / Rain / Reflective / Reversible / Shearling / Suede / Waterproof  /  Windbreaker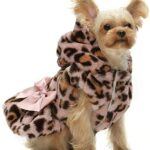 In this segment, the sky is the limit. While this category tends to lean toward smaller dogs or cats, there are fashions for medium to larger dogs. You will need to include that in your search to filter out those items that just won't work. This list of keywords is by no means all inclusive, however it will give you enough to get your thoughts going: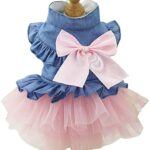 Bling / Color / Denim / Floral / Gown / Lace / Material / Matching accessory / Plaid / Ribbon / Ruffle                Sequin / Sundress / Tutu Wedding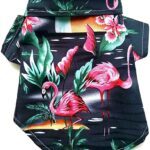 Next to coats, this category is second in popularity for pet clothing. And there is no shortage of sub-sets of this grouping either. Super easy to acquire an entire wardrobe for all occasions and as an expression of you. Again, these keywords will get you started, and I am sure they will spark some thoughts for your searches.
Aloha / Camouflage / Colors / Fashion / Prints / Flannel / Hoodie / Plaid / Sayings / Sports teams / Sweatshirt          Tank top / TV shows
Just like humans, some pets get cold, inside and out. Oh, and there are just as many styles for pets as we have. Chances are whatever your style is you will pass it along. So here are some keywords in the world of sweaters to consider.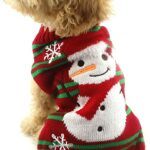 Argyle / Cable knit / Chenille / Faux fur / Fleece / Holiday / Hooded /Reversible / Turtleneck / Vests
Symbol Of Faithfulness
It has been said that are passion for our pets, particularly when it comes to adornments, is our symbol of faithfulness. And many also state that our loyalty makes this industry recession-proof because we will pamper our babies no matter what. Well keep that in mind as one of my future chats will be all about accessories! There are so many options in that arena that it warrants its own article.
For Charity's Sake
Paw Parents are a special breed of people. While my purpose is to provide a website to help others like me to purchase their pet supplies and find unique products, there are far too may fur babies out there that are less fortunate and military personnel who could use your help.
If you are interested in making the difference in the lives of rescue animals, please visit The Animal Rescue Site for a collection of human and pet merchandise where every purchase aid in feeding rescue animals. Select an item and you'll find out how many rescue pets that it will support. Whether you make a purchase for yourself or you're looking to find that perfect gift for a friend or loved one, you will find lots of opportunities to show your love of animals and make a great contribution at the same time.
In addition, if you are able to make a donation (one time or ongoing), the following organizations can also use your help:
Leashes of Valor
Pets for Vets
Paws for Purple Hearts
K9's for Warriors
Mission K9 Rescue
In the spirit of paying it forward, share your love of animals however you can and within the means that you can.
Community Chat
Share your thoughts about stairs, ramps and foot stools. What has worked.  What hasn't.  Are you looking for something specific?  Be sure to subscribe on the home page and receive alerts when a new post is made.  And follow us on social media too!